Discover Your Perfect Smile with Invisalign®
As a Certified Invisalign Provider, Angus Dentistry takes pride in offering concierge-style services, backed by our specialized training in esthetic dentistry and Invisalign treatment. Led by Dr. Rebecca Angus, our cosmetic dentists have created stunning smiles for countless patients in the Richmond area and beyond.
What is Invisalign?
Invisalign is a revolutionary method for achieving the straight, beautiful teeth you've always desired, without the need for traditional braces. Unlike braces, these invisible aligners are virtually undetectable, allowing you to smile confidently both during and after treatment. Made with advanced 3D imaging technology, Invisalign has proven its lasting effectiveness in creating stunning smiles.
Throughout the Invisalign treatment, you'll wear each set of aligners for approximately two weeks, removing them only for eating, drinking, brushing, and flossing. Each new aligner gradually shifts your teeth into the desired position, ensuring a comfortable and effective process.
During your treatment, our team will monitor your progress every six weeks to ensure everything is going smoothly as planned. The total treatment duration depends on your unique situation but typically lasts between nine to fifteen months, with an average of eighteen to thirty aligners worn during this period.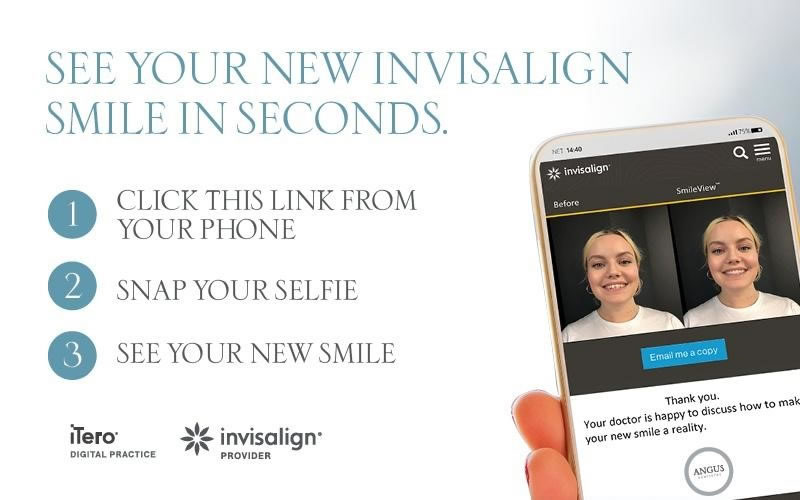 Why Choose Invisalign?
There are numerous benefits of Invisalign. The aligners are discreet and removable, enabling you to eat and drink without any restrictions during your treatment. Unlike traditional braces, brushing and flossing are a breeze – you simply pop out the aligners to maintain your regular oral hygiene routine.
Invisalign is designed for comfort, eliminating the discomfort often caused by metal braces and frequent adjustments. This type of treatment also allows for fewer office visits and no metal components causing abrasions.
Because each Invisalign treatment plan is based on a custom 3D computer model of your smile, you'll get a virtual preview of your straightened teeth even before you begin. This way you can visualize the transformation and look forward to your beautiful smile at the end of the treatment.
Ready to Transform Your Smile?
Contact Angus Dentistry today to schedule an appointment. Our team is dedicated to guiding you through the entire Invisalign process, ensuring you achieve the radiant smile you've always dreamed of. Start the journey towards your perfect smile with Angus Dentistry.